Northwest Wildcrafters' Rendezvous
Wildcrafters from across the region will rendezvous to share stories, network and celebrate. Commercial and home-scale. This is a campout, close to the Earth, family-friendly. Wildcrafters are a big and diverse tribe with ancestral roots. United by our love for plants and nature.
Contact Michael Pilarski at friendsofthetrees@yahoo.com
360-643-9178
Northwest Wildcrafters' Rendezvous Website Link
Confirmed presenters
| | |
| --- | --- |
| Robin Baire, Horse of a Different Color | Reisha Beck, Wayside Botanicals and Raven's Roots Naturalist School |
| Natasha Clarke, Tea with your Dragon, Twin Peaks Wellness | Gabe Garms, Raven's Roots Naturalist School |
| Natalie Hammerquist, Adiantum School of Plant Medicine | James Jungwirth, Naturespirit Herbs |
| Ashley Kehl, Friends of the Trees Botanicals | James Keskimaki, Ojas Naturals/ Grounded-Medicine |
| Diana Law, Dianaverse Plant Mystery School | Leslie Lekos, Wildroot Botanicals |
| Michael Pilarski, Friends of the Trees Botanicals | Katie Russell Sorensen, Saskatoon Circle |
| Terri Wilde, Dandelion Hearth Farm, Wilde Foods | More in the works |
We also expect a high level of expertise among attendees.
---
Earth Repair and the Subtle Realms
A workshop with Michael Pilarski
May 18-21, 2023
Camp Indralaya, Orcas Island, Washington
The program will be a mix of lecture, time in nature, journeying to subtle realms, and small groups. Participants will tune into their spiritual allies and will meet new ones. Together we will work for Earth healing. Meditations, songs and dances of universal peace will be interspersed.
Michael will give an overview of the current situation vis a vis planetary ecosystem restoration on the physical realm. Michael works with some of the world's top restorationists as well as indigenous people.
Indralaya is located on Orcas Island in the San Juan Islands of Washington State, Indralaya was founded in 1927 by members of the Theosophical Society as a practical experiment in theosophical living. The name Indralaya is derived from Sanskrit and means "a home for the spiritual forces in nature." Indralaya is a sanctuary of natural beauty and peace. The camp encompasses seventy-eight acres of forest, meadows, and trails, situated along three quarters of a mile of coastal shoreline.
Bio: Michael Pilarski has been consciously working with the subtle realms since the 1970s. He is the founder of the Fairy & Human Relations Congress which has happened annually since 2001. The Congress is about communication and co-creation with the fairy realms. They also have an online Gaian Congress in January. Michael has a website called "The Fairy Library" which has a bibliography of over 200 books on the nature spirit realms. Michael has educated and organized under the aegis of Friends of the Trees Society since 1978 and in 2019 started the Global Earth Repair Foundation.
Program Cost (includes Housing & Meals) ranges from $201 to $606 (depending on what level of accommodation and work-trade you select). There are reduced rates for young adults (18-24), teens and children.
Registration and Further Details
---
Some Earth Repair Notes
Michael Pilarski, Global Earth Repair Foundation
The affects of land degradation (and dehydration) on sea level rise
Degraded land holds less water in its soils, vegetation and aquifers. Instead, a higher percentage of precipitation runs off quickly to the oceans. This loss of land-held water (lost due to land degradation) added up across continents contributes to sea level rise. Consequently, by revegetating and rehydrating landscapes we can cause sea levels to drop. Interesting that land revegetation/restoration can influence sea levels. This is something I only learned about recently and is hardly anywhere mentioned in climate change discussions. One more reason for terrestrial ecosystem restoration.
The grassroots eco-restoration movement
I have been promoting such a movement since the mid-1970s through my Friends of the Trees Society and then the Global Earth Repair Foundation. I have had some successes and contributed to the movement but I have never been able to build an organization. Mostly I have been a cheerleader, chronicler and advocate through in-person events and trainings, writing and, more recently, video.
As I point out in many of my writings, there already is a global eco-restoration movement which has evolved over the last century and which has grown with increasing speed in the last two decades. We could place this global movement into a continuum with grassroots at one end and top-down at the other end
1. The top-down component is where most of the funding goes, tends to be better networked and is prone to various levels of dysfunction. This top-down sector is dominated by government, international organizations such as UN, FAO, World Bank, large international NGOs, large private industry and philanthropies. We could call this the autocratic part of the movement.
2. The grass-roots, bottom-up component is mostly local actors, tends to be small, isolated actions, not networked that well and with low funding. Sometimes communal, volunteer efforts. This part of the movement gets a lot more done with minimal money (more "bang for the buck" as we say here in the USA.) The decisions are made locally and are more likely to lead to successful outcomes that aid the local people/communities. This is the democratic wing of the movement and sticks up for the rights of the people.
I have always been a proponent of the Grass-roots movement, using the term "Earth Repair" as a grass-roots synonym for ecosystem restoration. Ecosystem restoration that includes human use. Humans integrated into ecosystems rather than ecological restoration areas with humans prohibited. I believe that the greatest strides in global restoration are to be had in farming and human settlements rather than ecosystem restoration, strictly defined.
The grassroots movement is decentralized by its very nature. This is one of its biggest strengths and safeguards. I believe we need more decentralization (localization) in the world and less centralization. However, I also believe that the global movement could benefit from increased networking and information exchange. That is why I am happy to see grassroots networks forming such as the Eco-Restoration Alliance and Ecosystem Restoration Camps.
The goal of my October 21-24, 2022, Global Earth Repair Summit was to convene members of the grassroots movement to talk to each other and build the movement. We made some small steps towards this but due to logistical problems did not reach large numbers. We did have programs on four continents so reached a wide geographic area. It was a good first step. Our current plan is to do Summit II in early 2024
As I said earlier, all the parts of the earth repair movement can fit somewhere along this top-down/bottom-up continuum. Many do not fit neatly into one category or the other. Some have aspects of both. What hybrids exist? Of course, current efforts need to be scaled up a hundred-fold to really get the job done.
---
Global EverGreening Alliance
One initiative I am keeping my eyes on is the Global EverGreening Alliance's Green Up to Cool Down campaign, which seeks to involve (and fund) millions of small farmers in East and South Africa and Asia to use agroforestry and regenerative agriculture to sequester carbon and improve lives. This campaign was just launched at COP27 with hundreds of millions$ in funding. GEA has over 70 member organizations from across a spectrum of the global earth repair continuum.
From their website:
What we do:

The Global EverGreening Alliance (GEA) works with, and through, its numerous member organisations – and with governments and multi-lateral agencies – to implement massive land restoration programs. In so doing, the Alliance fosters collaboration, learning, sharing and harmonisation across institutions, sectors and borders.

Why we do it:

Land degradation has negative impacts on food production, climate resilience, biodiversity and the livelihoods of millions of people. The major causes of land degradation are deforestation, poor grazing management, groundwater overdraft, inappropriate tillage practices, soil nutrient depletion, and adverse climatic conditions.

We believe the best way to restore degraded agricultural lands is through ''EverGreen Agriculture'' – a type of regenerative farming that integrates trees into crop and livestock production systems.

EverGreening practices are transformational, affordable and accessible, science-based solutions for restoring cropland and rangelands, with multiple benefits. They simultaneously address both the challenges of chronic food insecurity and rural poverty, and the imperative for agriculture to both adapt to and mitigate climate change at a globally significant scale.
---

I highly recommend this to the whole world! Michal Kravčík & colleagues' solutions to global climate change. I rank their analysis and solutions for planetary regeneration right up there as the best in the world.
---
A review and link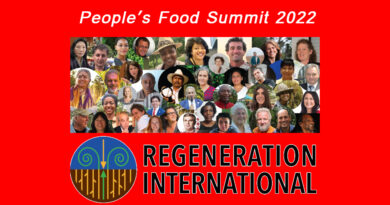 ---
Permaculture for Refugees
As a permaculturist since 1981, I am always glad to find examples of how permaculture is helping the world. The organization Permaculture for Refugees is doing great work.
* Listen to Rosemary Morrow and Eunice Neves' session at the Global Earth Repair Summit's European program.
Permaculture for Refugees [EUROPE PROGRAM]
* Visit their website: https://www.permacultureforrefugees.org
* Download and study some of their free publications.
---
Soils & Men: 1938 Yearbook of Agriculture
Ecosystem rehydration is the solution many of us at Eco-Restoration Alliance are working towards. Increasing water retention and plant cover on the world's degraded lands. Degraded land is found in all ecosystems from the driest to the wettest. It includes pretty much all urban and farming areas, which generally are in the business of draining water away, rather than retention. The bank of knowledge on how to do water retention in landscapes has grown immensely in the last century. The early Soil Conservation Service (USA) years produced many great manuals such as Soils & Men: 1938 Yearbook of Agriculture. 1249 pages. Many, many contributors. A sexist title, but it was a state of the art publication on erosion control and water retention at the time. Most of the information is pertinent today. I recommend it to anyone interested in water retention/erosion control structures and farming practices.
At the moment you can buy hard copies on the internet starting around $20 and mostly in the $40s range. Here is a place to get a free download!
---
Help make history by getting in on the ground floor of the Central Rocky Mountain Permaculture Institute Transition Team!
CRMPI is one of the oldest continuous permaculture facilities in the country needs your help. They are actively seeking the following staff and livelihood positions:
Executive Director
Education Coordinator
Herbalist
Nursery/Forest Gardener
Annual Production Manager
Mushroom Cultivation
Maintenance Person/Woodworker
Check the CRMPI website for more details www.crmpi.org
The Central Rocky Mountain Permaculture Institute is a 501(c)(3) sustainable agricultural education center where ecological gardening, edible landscaping, market farming, forest gardening, horticultural and sustainability skills, and greenhouse design and management have been taught since 1987. CRMPI empowers individuals and communities to become healthy and resilient through sustainable cultivation of abundant foods and natural resources.
---
Financial Report
* In our December 2022 newsletter I reported that The Global Earth Repair Summit was $15,000 in the hole (after we raised $45,000 before and during the Summit).
* An update is that we were $19,000 in the hole.
* Thank you to the friends who sent donations in response to my plea..
Krista Thie $1,000
Albert Postema $600
Lori Erbs, Unlimited Resources $501
Alexandria Rossoff $500
Michael & Carolyn Dolan $200
Brent Naylor $108
Judy Schwartz $100
Michael Volchok $100
Renee Fredrickson $100
John Watts $50
Jerry Pipitone $50.
Forest Shomer $50
Barbara Scott $50
Total donations since the Summit $3,309
(did I forget anyone? Let me know.)
* A friend gave me a loan of $7,000 so I could pay overseas staff.
* We raised some funds from Earth Repair Rallies in Port Townsend and Vashon Island, Washington.
* I have been busy wildcrafting cottonwood buds and other medicinals, selling seeds I grow, and selling off some of my library and have earned the money to pay most of the debt off.
* Further donations are welcomed.
* This is by far the most money I have ever lost on an event. A combination of factors including doing the Summit by donation and problems setting up the website and systems for a global online event.
* The loss and resultant efforts to earn the money has dampened my international efforts but I am still busy organizing local and regional events.
* The most exciting thing to come out of the Summit is an indigenous-led global ceremony for earth healing which is in the works. We will report on that in the next newsletter.
* The 67 Summit session recordings are high value and you are encouraged to look through them for ones of special interest to you.
---