Dear friends and allies,
This is a longer newsletter than usual, but there is so much to report since our last newsletter and many announcements for 2023. Please check it out. Look for what is useful to you. Love to all of you and to the planet.
MP
Here are the contents in order of appearance:
* My Personal Journey 1972-2022
* Financial Report
* How to Donate
* Global Earth Repair Summit Highlights
* First Nations' Caucus – And a Call for a Grand Ceremony
* Global Earth Repair Summit Recordings
* Earth Repair Rallies in the Salish Sea Region
* Gaian Congress, January 20-22
* Indralaya May workshop
* Northwest Wildcrafters' Rendezvous
* Playlist of 21 How-to Wildcrafting Videos w/ Michael Pilarski
* Planetary Regeneration Solutions
* Three, new books on solutions to the climate crises
---
~ by Michael Pilarski
In 1972, I moved to the Yakima Valley to join the Farm Brigade to assist small, organic farmers. It set me on a path that I have never wavered from. I give thanks for 51 years of serving the planet and serving the people. In 1974, after the Farm Brigade, I started Rural Resources & Information. In 1978 I started Friends of the Trees Society and have operated under that name continuously since. In 2019. I started the Global Earth Repair Foundation. Much of my time goes to unpaid community service and planetary service. I have always lived simply and home has been a long series of barns, old cabins, yurts, hippie shacks, rented houses and outdoor canopies. Currently, I live in a modest, 276 square foot, 2-room cabin without indoor plumbing. I have lived my entire adult life below what the United States calls the poverty line and am quite happy about it. I am poor by US standards but well-off compared to the lower-income half of humanity. But a rich and meaningful life doesn't have much to do with money.
* I give thanks that I have had meaningful work and a meaningful life.
* I give thanks for the thousands of wonderful people I have got to rub elbows with, work with and be friends with. I love all of you.
* I give thanks for the large amount of time I have been out in nature. Gardening, farming, wildcrafting, homesteading, exploring. Almost every day I work with plants.
* I give thanks for the dozens of gatherings and events I have started and many of them are continuing.
* I give thanks for the hundreds of workshops and courses I have given over the years to thousands of people.
* I give thanks for the hundreds of thousands of plants, trees and shrubs that have passed through my hands over the years to thousands of happy customers.
* I give thanks that I am still alive and able to be of service.
ACCOMPLISHMENTS IN 2022
* The biggest accomplishment by far, was the online Global Earth Repair Summit, October 21-24. The reverberations from that will go on for years.
* My first Ecosystem Restoration Course, held near White Salmon in the Columbia River Gorge.
* My 4th annual 3-part Micro-Farming Medicinal Herbs course.
* The 11th Inland Northwest Permaculture Convergence.
* 12th Bastyr University Cascades Field Experience.
* 12th Northwest Herbal Fair.
* 22nd annual Fairy & Human Relations Congress.
* The 49th Okanogan Family Faire (aka Barter Faire) with 11,000 attending.
* Many other workshops, presentations and small gatherings.
* Maintained two small, herb farms: Chimacum (western Washington) and Twisp (eastern Washington)
* Friends of the Trees Botanicals in its 25th year sold more fresh and dry botanicals, seeds and propagation material than ever before.
~ Of course, all of these were collaborative projects. Each one of these is a team effort. I am blessed to have so many team members. Too many to name them all here, but special mention should be made to
Ashley Kehl, Friends of the Trees Botanical partner and my son.
Anna Pallotta, Friends of the Trees Botanical's office manager.
Kurt Schaller, my 2022 apprentice, who came all the way from Spain.
SOME GOALS FOR 2023
* Gaian Congress, January 20-22, online
* 1st Northwest Wildcrafters' Rendezvous
* Series of Earth Repair Rallies around the Salish Sea
* Series of Botanical Books Sales
* Start an earth repair educational center in eastern Washington.
* Do a series of plant walks on Traditional & Modern uses of Wild Plants.
* Maintain and improve both herb farms. Help keep the business running.
* 5th annual Micro-Farming Medicinal Herbs course.
* Teach a course on "Using Medicinal Plants in Agroforestry and Restoration Projects".
* Attend the 50th anniversary of the Okanogan Family Faire (aka Barter Faire).
* Miscellaneous other fun and useful events and activities.
---
FINANCIAL REPORT & PLEA
The Global Earth Repair Summit is $15,000 in the hole, although we raised $45,000 before and during the Summit. Thank you to all the sponsors. Most of the money owed is to the staff, both here and abroad. The only presenters to get paid were from Africa, Latin America and indigenous people. Michael Pilarski does not get paid a penny and has contributed most of his 2022 farming income to the Summit. Please help us get back in the black. Any size donations are appreciated! We offer a lot of content and deserve your support.
In my 51 years of financial history doing this work I have 95% relied on earned income and income from programs. Perhaps 5% came from donations. I have never relied on grants. Right now I could really use your donations. If you can afford it, please send an end of year donation. Please help keep me on the road. A financial contribution is a good investment in a global future. We have a great track record in judicious use of funds.
Thank you,
Michael Pilarski & the Earth
---
HOW TO DONATE
Checks
Please make checks out to "Global Earth Repair Foundation"
Mail to:
Global Earth Repair, PO Box 1133, Port Hadlock, Wa 98339
Paypal (for Friends of the Trees Society)
Join our Patreon (for Global Earth Foundation)
Tax Deductible Donations
Donations over $500 to the Global Earth Repair Foundation can be tax deductible through our 501c3.
Inquire for more details
---
GLOBAL EARTH REPAIR SUMMIT HIGHLIGHTS AND RECORDINGS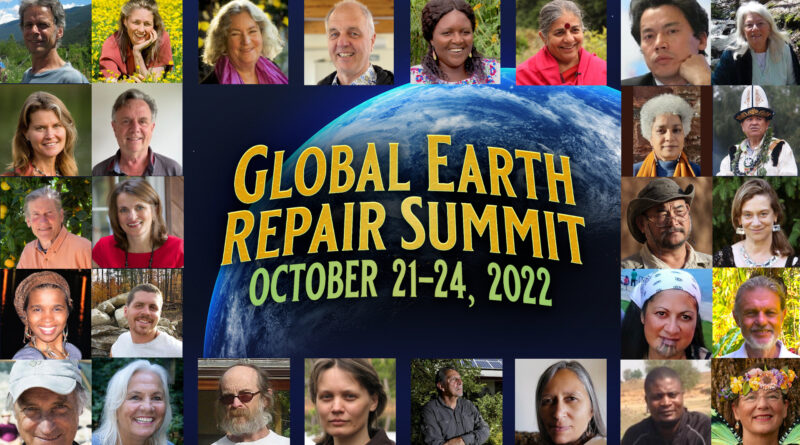 Three highlights from the Summit I recommend everyone watch:
A) The world-class drumming/dancing and choir performance from the Nakivale Refugee Settlement in Uganda which they put on especially for the Summit. Over 100 people involved from many different culture groups. Check it out! A big thank you to all of them and to Marius Iragi Ziganira for organizing this!
Performance starts at minute 14:07
If you like the performance, take the time to listen to Marius' talk about their agriculture program at the Settlement. Contact Marius at iragiziganira@gmail.com
Marius has a GoFundMe for their seed bank at: https://gofund.me/8e5955ce
B) John D. Liu's Keynote talk: The Moment for Mass Action to Restore the Earth is Now
!
C) First Nations Caucus: This is three and a half hours of indigenous people talking among themselves about Earth repair, sharing prophecies and what humanity needs to do at this time. Ilarion Merculieff chaired the caucus. Catherine Muripaenga Ikenn did the opening prayer. I consider this the most powerful session of the whole Summit and the whole world should watch it.
---
EARTH REPAIR AND THE SUBTLE REALMS
A workshop with Michael Pilarski
Indralaya, Orcas Island, WA
May 18 -21, 2023
The program will be a mix of lecture, time in nature listening, journeying to subtle realms, and small groups. Interactive, experiential. Participants will tune into their spiritual allies and will meet new ones. Together we will work for Earth healing at the planetary level and on particular places that participants wish to focus on. Meditations, songs and dances of universal peace will be interspersed. Indralaya is a 95-year old, theosophical center and it's old forest and shoreline location on East Sound are great for connecting with nature. Their 2023 program will be up in January.
---
---
PLAYLIST OF 21 HOW-TO WILDCRAFTING VIDEOS W/ MICHAEL PILARSKI
---
PLANETARY REGENERATION SOLUTIONS
By Michael Pilarski. December 10, 2022
I wrote up a few notes on planetary regeneration solutions for my presentation at the Earth Repair Rally in Port Townsend, Washington state, December 10. They reflect some of my take-away thoughts from the Global Earth Repair Summit.
Rehydrate landscapes.
Rehydrating the atmosphere.
Regreening the land.
Soil Sponge.
Ocean restoration.
Food Production.
Spiritual and Indigenous Approach.
---
THREE, NEW BOOKS ON SOLUTIONS TO THE CLIMATE CRISES
I have book reviews of three books which I have read since the Global Earth Repair Summit. All of them published in 2022. Between them, they give an overview of proposed solutions - from advanced technologies to nature-based solutions.
---